Marriott Vacation Club® Exit Specialists Are Here to Help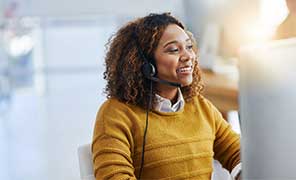 Vacation ownership is a life-changing decision. At Marriott Vacation Club, we understand that sometimes even long-time Owners need to sell their timeshare due to life circumstances. Reduced finances, fixed incomes, declining health and other reasons may make it difficult for Owners to get out and use their timeshare to explore the world.
When you work with us to plan your timeshare exit, you'll receive information and guidance from a company you trust. We're here to help you understand the process, every step of the way.
---
Selling Your Timeshare
Are you considering selling your timeshare, or wondering what benefits you might get out of the Marriott Vacation Club resale program? Our timeshare Exit Specialists can answer your questions and address any concerns.
We're here to help you explore all your options and determine the best decision for you. You can trust the Exit Specialist team to provide the exceptional service you've come to expect from Marriott Vacation Club.
To speak to an Exit Specialist about your options,
---
Owners Share Their Experiences with Our Exit Specialist
From Kenneth Friedman
For several of the reasons given above, we decided it was necessary to sell our vacation ownership. Knowing the many websites claiming to be able to sell our Marriott Vacation Club points or weeks, but not knowing which are legitimate, we were hesitant to jump into this market.
That is until we found out about the Marriott Vacation Club repurchase program. We knew we were dealing with a reliable and reputable company… one that we could trust.
Your staff was extremely professional, knowledgeable and efficient in walking us through the process. The offer was fair and reasonable and allowed us to still use the points that were in our account, even after the repurchase process was complete.
Thank you, Marriott Vacation Club for making this possible. I knew there was a reason we chose the Marriott Vacation Club program for our original purchase.
From Marcus Myles
I had a question about selling my unit and the Exit Specialist was able to provide me information about your timeshare exit program and how that works. The Exit Specialist was also able to get me information on the Vacation Club Points versus the Marriott® Rewards points for my unit. They even gave me information about the Right of First Refusal that Marriott Vacation Club® has, something I didn't know. Just a quick thought on my mind, about reselling my unit, gave me a wealth of information about ownership with Marriott Vacation Club, and I just want to let you know they did a great job! Thank you very much.
From Karen and Doug Olcott
After almost 20 years of being Owners with Marriott Vacation Club®, my husband and I decided that it no longer fit our vacation needs. Our children did not want the responsibility of continuing and we were not in a position to continue the maintenance and planning it takes to best use our timeshare. Marriott Vacation Club has always been an excellent company to work with and though we were not looking forward to going through the Exit process, we knew we needed to get started. From the very start, communication was clear and helpful. The Exit Specialist stuck with me over a period of a few months. We emailed each other and spoke over the phone several times, trying to make the sale of both our week and our extra 1,500 Vacation Club Points as easy as possible. The Exit Specialist kept me informed all along the way to keep me up to date on progress. When papers were sent for us to sign, they were clearly marked and we were able to get them notarized and completed quickly. We thank Marriott Vacation Club for helping us through the process.
MG-18-154